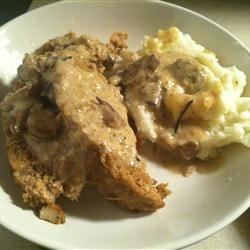 MEATLOAF with Fennel Cream Sauce
Maggiano's Little Italy Recipe
Serves 4-6
Meatloaf
1 pound ground veal
1 pound ground beef
1/3 cup yellow onions, diced 1/4 inch
1/2 cup ricotta cheese
1 1/3 tablespoons parsley, chopped
1 1/3 tablespoons garlic, puree
1/3 cup seasoned bread crumbs
1/4 teaspoon red pepper flakes
2 eggs, 1 whole & 1 yolk
1/2 tablespoon salt & pepper mix
Fennel Cream Sauce
1 tablespoon vegetable oil
1/3 cup fennel bulb, diced 1/4 inch
1/4 cup yellow onion, diced 1/4 inch
2 cups chicken stock
1/3 cup fennel fronds & stems, chopped 1/2 inch
1 teaspoon fennel seed, ground or crushed
1 teaspoon garlic, chopped
2 cups heavy cream
1 cup Asiago or Parmesan cheese, grated
1 tablespoon salt & pepper mix
Meatloaf:
Combine the diced yellow onion, ground veal, ground beef, garlic puree, chopped parsley, red pepper flakes, ricotta cheese, eggs, salt & pepper mix and place into a mixer and mix for about 2 minutes. Add all the seasoned bread crumbs and push the meat mixture down, off the sides and bottom of the bowl. On low speed, blend the mixture for 30 seconds to 1 minute until fully incorporated.
Mix any dense bread crumb areas by hand and ensure the mixture is properly mixed. Using a measuring cup, measure 1 cup of mixture to create round, disc like patties. Should make about 6 patties. Bake in preheated 350 degree oven for approximately 25 minutes, or until internal temperature reaches more than 155 degrees for 15 seconds. Once cooked, remove from oven.
Sauce:
In a large sauce pan heat the diced fennel and onions in Vegetable Oil until soft and translucent. Add the chicken stock, fennel fronds, fennel seed, and garlic, bring to a simmer and cook for approximately 15 minutes or until the seeds and fronds have bloomed.
Optional: Remove from heat and puree with a mixer until completely smooth and pass through a strainer. Add heavy cream and cheese to Sauce Pan. Mix until completely incorporated and allow to simmer for a couple of minutes. (If you strained the sauce, add back to pan to reheat.) Add the Freshly Ground Black Pepper & Salt to the Sauce at the end.
Notes: Make your favorite version of mashed potatoes, place meatloaf on plate and top each dish with a 1/2 cup of sauce.